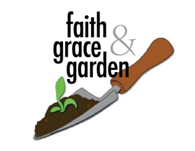 For decades, the Faith & Grace Garden has been growing food to feed our neighbors. We are strictly a "food pantry garden," donating fresh vegetables and fruit to the Des Moines Area Religious Council, the Eddie Davis Community Center and the food distribution program at Trinity Methodist Church.
This garden is also a place we welcome our community to join us to achieve our goal. Volunteers are retirees, church groups, civic groups, students, neighbors and other people who want to enjoy fresh air and sunshine while helping other people. Volunteers help with planting, weeding, watering, harvesting and delivering to the food pantries. There is little down-time in the garden, so we can always use the help!
To volunteer, please use the links below. It helps us plan and communicate changes to weather, etc. SignUp.com will not share your information.
Students Wishing to Earn Service Hours Register Here:
http://signup.com/go/2VLV64

Everyone else wishing to volunteer in the Garden, register here:
http://signup.com/go/a5U4C5
Please contact Tim Goldman at timothyjgoldman@gmail.com and he will sign you up manually.
Contribute to the Faith & Grace Garden:
(select from the dropdown menu)